The best impressions are the first ones.
Postcard Magazine is the first thing visitors will read in their hotel room and it has an immediate impact – helping them to decide how and where they spend their time and money in Bath – Places to visit, shop, eat, drink and be entertained.
Our mission :
To produce the best visitor guide and companion the city has seen. Content rich, lavish in production, and a great read with real value.
Production quality:
Built to last. Size: 290mm x 215mm. Cover: Heavy 350gsm matt laminated with spot UV. Perfect bound. Text: 115gsm Art Gloss paper mixed with 120gsm Offset book paper. A/W  edition: 196 pages.
Great writing – Brilliant imagery: 
A wealth of local writers, historians and contributors including: Emma Clegg, Jessica Hope, Georgette McCready, Melissa Blease, Vishaka Robinson, Simon Horsford, Catherine Pitt, Claire Louise Cohen, Dr. Felicity James, Mary Stringer, Crystal Rose, Andrew Swift and Mick Ringham.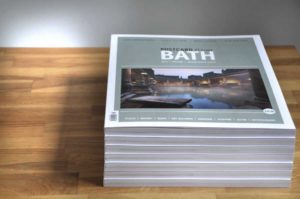 The Essentials:
• The initial print run is 3000. Published 3 times a year: Spring, Summer, Autumn/Winter
• Long life copies are available in over 1800 rooms at participating 3, 4 and 5 star hotels and at selected B&B's and guest accommodation in Bath.
• At even the most modest occupancy rates – that's well over 100,000 high-spending visitors who will enjoy Postcard in their hotel rooms over its 16 week shelf life.
• Additional copies are also available to purchase at concierge / reception desks as well as selected retailers, coffee shops and museum shops across the city.
To find out more about advertising or featuring in Postcard Magazine please get in touch. Tel: 01225 424499 or or email us by clicking below.
Our media pack can be downloaded by clicking here